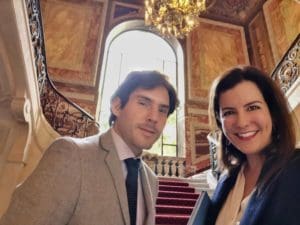 📣. Fascinating dialogue at Cercle France-Amériques between Judge Renata B. Souto Maior Baião & Aubin Gonzalez Lapos to discuss #Innovation #Technology #AI #Blockchain #Computional law. The work, researches & teachings of Judge Renata B. Souto Maior Baião are inspiring various generations across the globe. She is also sharing with Aubin Gonzalez Lapos a passion to construct dialogues & coordinated actions between people.
📌.  Judge Renata B. Souto Maior Baião  is a global leader travelling the world to initiate dialogues & propose disruptive models. Her legal practice, her impacting researches, and her teachings in #blockchain #Technology #Computational Digital Law have received many #International recognitions & awards.
Judge Renata B. Souto Maior Baião about her visit at France-Amériques "We have discussed  how Law will be one of the drivers for the changes we foresee and how we, as members of a society in permanent evolution, must be brave enough to innovate and break through the conservative nature of laws and regulations. On the other hand, innovation must be reflected upon in advance so that awareness may reach everyone and obstacles – such as jurisdiction limits – may be appropriately addressed."
📌.   Aubin GONZALEZ LAPOS is an International and Business Lawyer based both in Paris and Morocco having extensive practice related to both European & African markets. He is board member of the Cercle France-Amériques. Aubin, specializes in matters concerning energy, M&A, startups, entertainment & sports + infinite small and space enthusiast. Aubin extensively travels all over the globe to create bonds among people and nations. He is the founder and chairman of the Berkeley Global Society having a direct presence in 110 countries. In addition.  Aubin has been a Guest Speaker and lecturer, in 4 continents, for different Universities and Institutions.

Renata B. Souto Maior Baião
Judge Brazil

Aubin Gonzalez Lapos
Administrateur France-Amériques